Tayrona National Park is located on the northern coast of Colombia, inside the magnificent formation of Santa Marta Mountain range. This national park counts with amazing clear beaches, exuberant rainforest and is a holy grail for birdwatching, due to only in 42 kilometers the altitude goes from the zero meters of the coastline to 5775 m.a.s.l, for that reason here you can find all the possible ecosystems.
Besides Tayrona National Park is a sacred place, here are living the indigenous communities, Kogi, Arhuacos, Wiwa and Kankuamo, descendants of the old Tayrona culture, who conserves their language and rich cosmology.  Some archeological remains have been found in the park. The most important of these are the ruins of the pre-Hispanic town of Pueblito (called Chairama in the indigenous language), considered one of Tayrona's significant settlements. 
Tayrona National Natural Park is one of Colombia's most famous national parks. The natural park stretches along the coast from the Bahía de Taganga near Santa Marta to the mouth of the Río Piedras, 35km to the east, and covers some 12,000 hectares of land and 3000 hectares of sea. It is possible to arrive it from Santa Marta and practices a lot of activities such as snorkeling, birdwatching, hiking, horse riding, visit archeological places, nature tours, photography tours, coffee tasting and relax.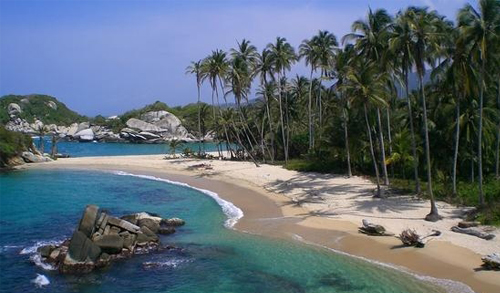 Here you can find accommodation alternatives at Tayrona National Park
ECOHABS - CAMPING - CABIS - HAMMOCKS