A trip to delight your soul and mind with the beauties of well conserve nature, splendid Caribbean beaches, the colonial charm of Cartagena and Villa de Leyva and vitality of Bogota. An absolutely lovely contrast of magnificent landscapes and Colombian culture beat.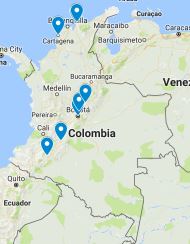 Highlights
Bogota Historical Centre
Cartagena Walled City
San Agustin Archeological Park
Villa de Leyva 
Tayrona Natural Park 
Itinerary
Day 1. Welcome in Bogota

Welcome to the Eldorado Airport. Accommodation at the selected hotel. The activities of this day may vary depending on the arrival. Overnight in Bogota.

Located at 2.600 meters above sea level, this capital of 9 Million people is the biggest city in Colombia and center of economic, political and cultural scenery. During two days, discover one of the largest capitals in South America, its modern and old side.

Day 2. Bogota Historic Center

Visit the historic center, La Candelaria, which boasts bustling plazas, churches, and museums. Visit the Plaza de Bolivar, continue to the Museo Botero, a colonial house bursting with artworks from famous Colombian painter Fernando Botero.

Discover the remarkable collection of gleaming gold pre-Hispanic artifacts and precious stones at the Museo de Oro. Afternoon at leisure to explore the city further. Overnight in Bogota.




Day 3. Salt Cathedral of Zipaquira

Journey north through "Sabana de Bogota", a high plateau peppered with greenhouses which are used for the cultivation of carnations and roses – an important part of the country's thriving flower industry.

Arrive in Zipaquira (approx.1¼ hours), One of Colombia's oldest cities, and explore the amazing underground Cathedral of Zipaquira, which is carved out of salt. In the night continue to the beautiful colonial town of Villa de Leyva (approx. 2 hours). Overnight in Villa de Leyva.

Day 4. Villa de Leyva

Founded in 1.572, its well-preserved architecture evokes colonial times. Surrounded by hills and old houses, leads to feel like in a frozen time.

Visit Museo el Fósil, a museum built around a fossil of 120 million-year-old kronosaurus that was found in 1977. In the afternoon, continue to "El Infiernito", astronomical center Muisca culture and visit Convento del Santo Ecce Homo, Journey through Bogotá. Overnight in Bogota.

Day 5. Bogota to Neiva

Breakfast and transfer to El Dorado Airport to take the flight to Neiva. Arrival in Neiva, reception, and transfer during approximately 6 hours to San Agustín. In the afternoon, visit the archaeological park. Since 1995 is part of UNESCO World Heritage Sites.

This Park contains the biggest complex of religious monuments and megalith sculptures of South America. In the afternoon time to visit the town. Overnight at selected accommodation

Day 6. San Agustin Archeological Park

In the morning, horseback riding and visit of the archaeological sites "El Tablon" and "La Chaquira". Also, contemplate the Estrecho de Magdalena, where the Colombian longest rivers begin and visit the area.
Overnight at selected accommodation.




Day 7. Neiva to Santa Marta

Breakfast. Transfer to Neiva airport to get flight connection to Santa Marta, with a stop in Bogota.

At your arrival in Santa Marta, will be received by the tour guide and after that, the Cultural and historical tour begins, visiting the Quinta de San Pedro Alejandrino, the monument of Carlos "El Pibe" Valderrama, Santa Marta Bay and transfer to accommodation. Overnight in Tayrona Park.

Day 8. Tayrona Natural Park

This natural park is located in Sierra Nevada de Santa Marta, the largest coastal mountain in the world. A spot of biodiversity is concentrated here. In only 46 kilometers, is possible to go from 0 m.a.s.l to 5.775 m.a.s.l, concentrating high level of endemism of flora and fauna that are unique from this region.

Boat ride to Playa Cristal. The largest coral area of the Park is situated here and you can snorkel to observe the coral reefs. The Seven Waves beach from which visitors can enjoy an amazing landscape. Overnight in Tayrona Park.

Day 9. Caribbean Time

Breakfast and free time to discover at your convenience this beautiful destination. The Sierra Nevada de Santa Marta is also the ancestral home of the descendants of the Tayrona indigenous ethnic group as the Arhuaco, Wiwa, Kogi and Kuankuamo. Respect their traditions and remember that you are a visitor in their sacred land

Explore the wonderful landscape. From there you get to nearby beaches and enjoy the beautiful bays. Overnight in Tayrona Park

Day 10. Caribbean Time

Breakfast and free time to discover at your convenience this beautiful destination. Overnight in Tayrona Park.

Day 11. Cartagena Unesco Historical Centre

Breakfast. At 9:00 a.m.

land transfer to Cartagena. This journey last approximately 4 hours along "Troncal del Caribe", which is a road that connects the Caribbean coast from east to west.

Situated in a bay in the Caribbean Sea, Cartagena has the most extensive fortifications in South America, therefore deserved to be Unesco Heritage. In the afternoon, the tour begins in the Walled City to discover monasteries, churches, the Convento de la Popa and Castillo de San Felipe, a military for

tress built by the Spanish in the colonial period

Day 12. Cartagena Time

Breakfast. Free day to connect you with this colorful, contrasting and revealing city because Cartagena brings almost at every person a different charm, either the music, sky tints or tropical beat.

An optional recommended tour is Emerald workshop (Not included) due to Colombia is the largest producer of this gems, in this experience can learn about the jewel process and make your own small piece of art with true emerald,

Day 13. Rosario Islands and Playa Blanca


Breakfast. Cartagena is surrounded by a marvelous archipelago with four islands where lives an important set of ecosystems, habited primary by coral reefs where hundreds of animals as fishes, corals, and crustaceans. At 8:00 a.m. present in Pegasus dock to start your Playa Blanca tour (Shared Service – Group Tour). After a journey by boat during one hour, you will arrive at this fantastic beach of white sand and also enjoy a typical Caribbean lunch of fresh fish, coconut rice and fried banana. Free time to enjoy the beach. At 3:00 p.m. return by boat to Cartagena.


Day 14. Sunset bay boat tour

Breakfast and free time. At 5:00 p.m. enjoy an unforgettable sunset in the bay of Cartagena. We will cruise around the bay of Cartagena for about two hours. On board, you will receive a delicious cocktail drink. We will pass by Manga, San Felipe de Barajas Castle, and Santa Cruz de Castillo Grande Fort.

At sunset time, the city has a very special flair. Buildings are lit up and the setting sun gives Cartagena a particular charm.

A very special farewell of your Colombian adventure.





Day 15. Cartagena to Bogota



Breakfast and transfer to Rafael Nunez International Airport to take the domestic flight to Bogota and later your international flight connection. Safe trip back home.



Day 9

Day 10

Day 11

Day 12
Travel Details
Services Included

14 nights of accommodation according to selected category
Internal flights within the cities in economic class

Bogota – Neiva
Neiva – Santa Marta (Connection in Bogota)
Cartagena – Bogota

All land transfer in the following cities:

Bogota – Zipaquira - Villa de Leyva - Bogota
Neiva – San Agustin – Neiva
Santa Marta - Cartagena

All Transfers Airport - Hotel – Airport in the following cities

Bogotá
Santa Marta – Tayrona Park – Santa Marta
Cartagena

14 Breakfast in the accommodation
One lunch in Rosario Island Day Tour
Tours mentioned in the itinerary with English speaking guidance in private service, except Bay Tour in Cartagena and Rosario Island Tour which are in shared service.
Entrances in the mentioned attractions
Insurance card (Coverage COP 7.000.000 in case of accident)
24 Hours Assistance from Living Col staff

Services Not Included

International flights to Colombia
Meals not mentioned.
Tips. Additional services at hotel such as laundry, calls, room service

Accommodation

Selected accommodation accomplishes standards of service, hygiene, and safety. Location in historical centers or strategic points for exploring the place. Similar options in accommodation.




DESTINATION

BUDGET

ECONOMY PREMIUM

SUPERIOR

BOGOTÁ

CASA PLATYPUS


SANTA LUCIA HOTEL SPA


HOTEL DE LA OPERA


VILLA DE LEYVA

HOTEL EL EDEN


POSADA DE SAN ANTONIO



HOTEL LOS DURUELOS


SAN AGUSTÍN

EL MACO


AWAKANKA


AKAWANKA


TAYRONA NATIONAL PARK

JASAYMA CABIN
Not in front of the beach

ECOHOTEL PLAYA ROCA
In Front of the beach

CABAÑAS ARRECIFE
In Front of the beach

CARTAGENA

HOTEL DON PEDRO DE HEREDIA


ALLURE BOM BOM



HOTEL BOVEDAS DE SANTA CLARA


Prices per person

Based in double accommodation.





| | |
| --- | --- |
| ACCOMMODATION CATEGORY | USD |
| TOURIST | 1.642 |
| COMFORTABLE | 1.744 |
| SUPERIOR | 2.418 |




Based on double accommodation
Valid from 20 April to 20 December 2017
Subject to change without prior notice

Booking Process



Please send the following information about every passenger

Full Name
Passport Number
Birthdate
Email
Mobile Number
Special meal requirements (Vegans, gluten free, vegetarians, etc.)

Pay 50% of the total trip to confirm your booking. A confirmation will all the services will send it by email with the respective invoice.
100% should be paid 30 days before the start date and we send the final invoice, services vouchers, and e- tickets.


Payment Options

ONLINE PAYMENT WITH CREDIT CARD

Visa

MasterCard

American Express

Booking Conditions