National Park Tayrona Packages
A magical place! Between the mountains and the sea. The Sierra Nevada is located on the Atlantic coast, the Tayrona Natural Park, proclaimed as the highest coastal mountain coastline in the world, since only 42 kilometers from the coast rises 5775 (meters), which makes possible the experience of all thermal, from the warm dry until perpetual snow, great place, is not it? Besides this, there are resguardas indigenous communities, Kogi, Arhuacos, Wiwa and Kankuamo, descendants of the Tayrona. A natural destination and reunion with native peoples.
From COP 655.000
VIDEO: Tayrona National Park. Declared as Biosfer Reserva by Unesco in 1982 (English Subtitles)

Source: Sitio Web Parque Nacionales Naturales
Tayrona National Natural Park is one of Colombia's most popular national parks, Tayrona grips the Caribbean coast like a jungly bear hug at the foot of the Sierra Nevada de Santa Marta. The park stretches along the coast from the Bahía de Taganga near Santa Marta to the mouth of the Río Piedras, 35km to the east, and covers some 12,000 hectares of land and 3000 hectares of sea.
The region was once the territory of the Tayrona people, and some archeological remains have been found in the park. The most important of these are the ruins of the pre-Hispanic town of Pueblito (called Chairama in the indigenous language), considered to
have been one of Tayrona's major settlements.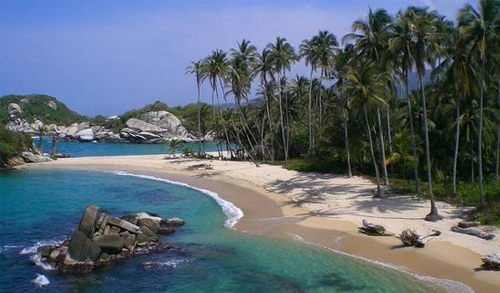 Here you can find the different options for accomodation in the PNN Tayrona
ECOHABS - CAMPING - CABIS - HAMMOCKS